Made for the Fitbit Versa 2, Versa and Versa Lite:
Sporty, interchangeable watch strap
Your running shoes match your leggings, your sports top is perfectly coordinated with your dumbbells: Sporting endeavours should be carried out in style. But, just as importantly, your sporting accessories also need to be on trend. So why not choose a coordinating sports strap for the Fitbit Versa 2, Versa and Versa Lite fitness trackers? As a licensed Fitbit partner, Hama offers stylish straps for the smartwatch. You can select your favourite colour, a design that accentuates your gym wear or a strap to replace one that has broken. With universal sizing, the interchangeable straps fit virtually any wrist, and look just as good during a workout as they do going about your daily activities, at a party or in the office.
Silicone strap to withstand every sporting activity
When you are exercising, you don't want to wear anything that pinches, squeezes or is uncomfortable in any way – and the same is true of fitness watches. That's why our sport straps for the Fitbit Versa 2, Versa and Versa Lite are made of silicone. The material is flexible and soft so that nothing cuts into or puts pressure on your skin – at the same time, it is slip-resistant, as the strap should fit securely at all times. The skin-friendly silicone also offers the advantage of being dirt-repellent and washable. So if you decide to step up your usual workout with a cross-country assault course, your replacement strap will be up to the challenge.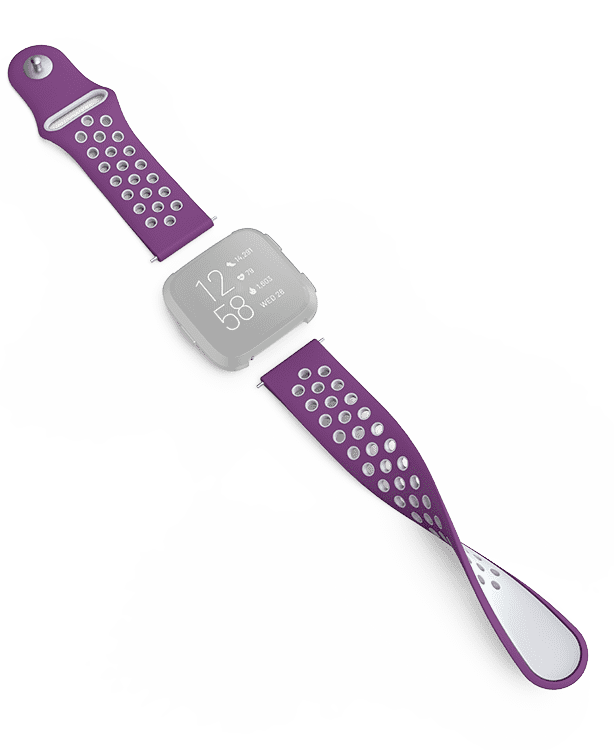 A breathable sports strap with air holes to prevent sweating
No matter how hot it gets, no matter how much you perspire, the Fitbit strap keeps its cool. The perforated design maintains a constant air supply so that the strap is always comfortable to wear, whether you are walking, high-intensity interval training or jogging.
Snap fastener
Quick to take off and put on
When exercising, you want to be able to quickly remove your fitness tracker to look at the screen or to adjust a setting. If you have to spend a long time fiddling with the fastener, it's annoying and wastes valuable time, especially when running. The stainless steel snap fastener allows you to remove the watch from your wrist in no time at all and put it back on again just as quickly. Yet the fit remains secure at all times.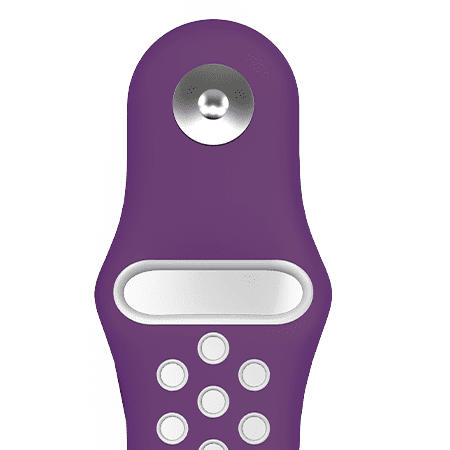 As a licensed Fitbit partner, Hama guarantees that the straps are compatible with, and a precise fit for, your Fitbit smartwatch. Rely on the experts! That way, you can focus on establishing a healthy lifestyle.