Smart and fit: the 'Fit Watch 4900'
A smartwatch for getting fit
Whenever you make your resolutions, it's never too late for more movement and sport. Get yourself a reliable training partner to help kick-start your active lifestyle: The 'Fit Watch 4900' smartwatch has a coach feature that monitors your training successes and body functions in a variety of ways, and motivates you. Besides the fitness tracker functions, you get all the benefits of a smartwatch; for example, you can display notifications, so that you don't miss important information when walking.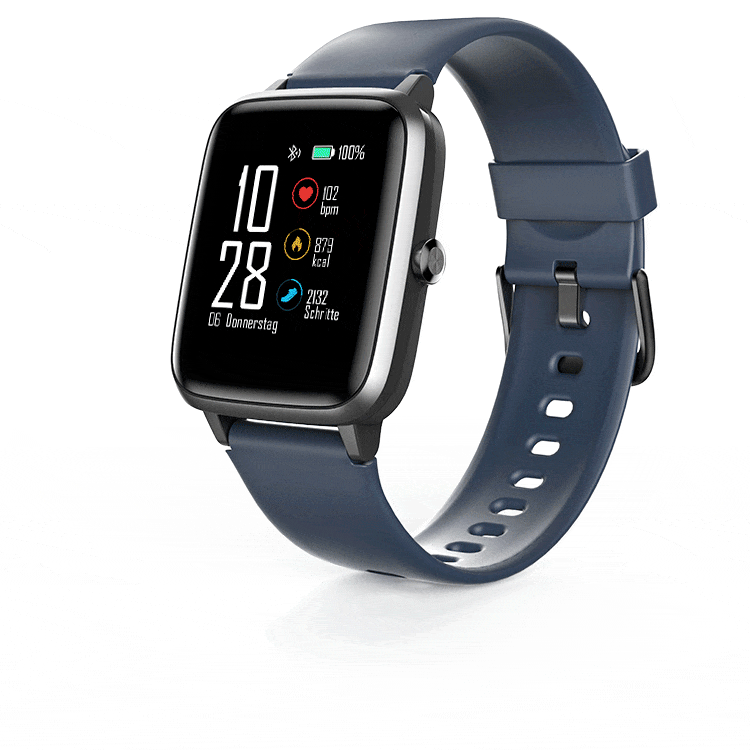 Up to date with every step
No need to miss any news when doing sport
Do you like to completely switch off during sport? Absolutely! But right now you are waiting for the football results of your favourite club, your exam results or an important call. Before you decide to skip exercise, simply display all important messages on the smartwatch – as a message preview on the display and with a vibration alarm. That way, you can stay informed even when out walking, jogging or doing yoga, without having to hold your phone in your hand. Of course, there are times when you're waiting for important news and not doing sport. Therefore, the notification function on the smartwatch is always useful – particularly in the office, where constantly checking your smartphone does not make a good impression. An important call, e-mails, messages via WhatsApp, SMS, Facebook or posts from Instagram – you will no longer miss anything with the smartwatch, no matter where you are.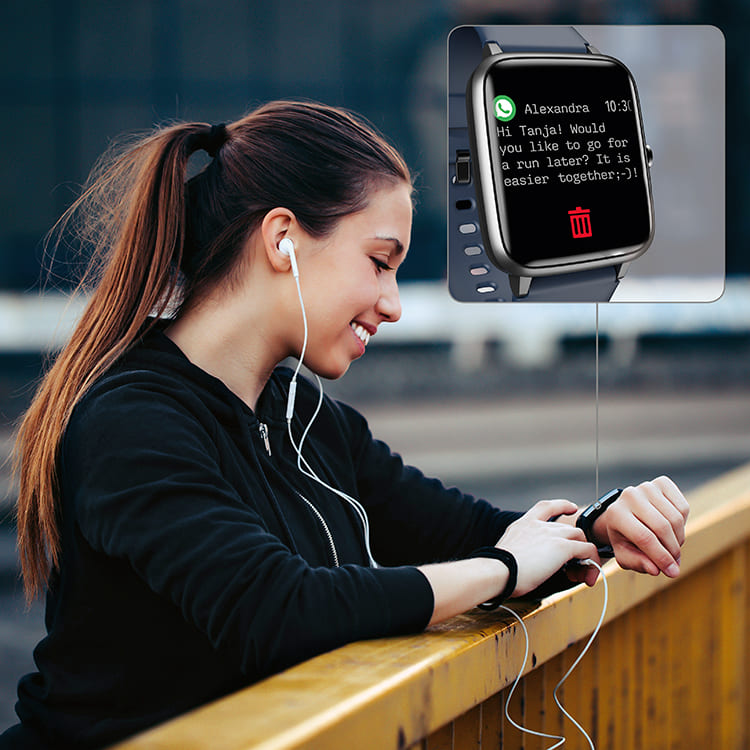 Protection class IP68
There's no such thing as bad weather, only unsuitable clothing
It's pouring with rain – you would prefer to postpone your jogging until the weather gets better, so that you can track your successes again. With the 'Fit Watch 4900' fitness tracker, you no longer have any excuses: The running watch has an IP68 rating, meaning that water, rain or snow won't do it any harm. So get into your weatherproof sports kit and become an all-weather runner. If you prefer to stay on or in the water anyway, the fitness tracker offers protection from water when swimming, playing beach volleyball and doing water sports. Soggy conditions in the autumn, or a hot summer's day – with the 'Fit Watch 4900', you can track all your activities at all times.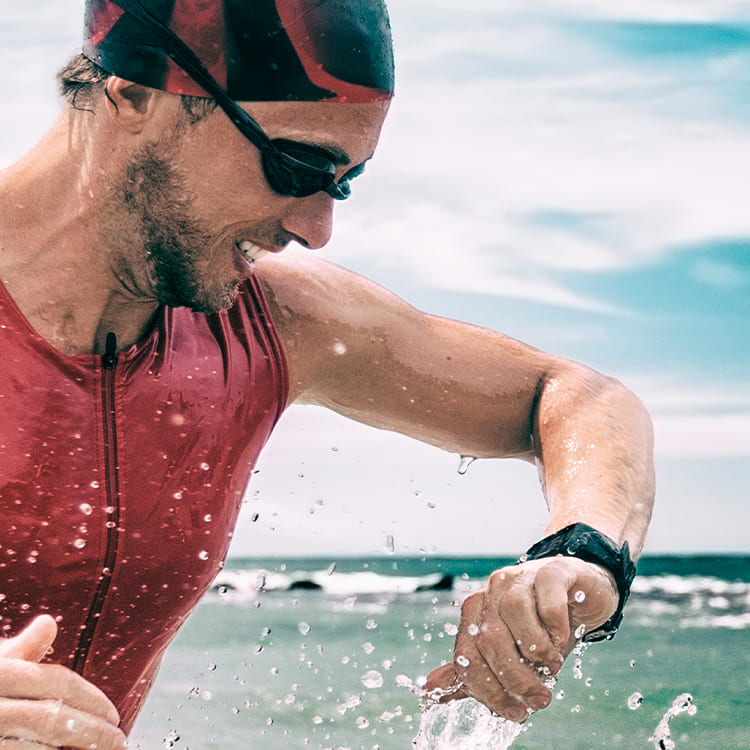 1.3-inch full-touch LCD display
User friendliness at its best
Large and in colour: With the 1.3-inch full-colour display, you have an excellent view of both your activity tracking and your WhatsApp messages – all contents on the display are easy to read.
Fair-weather sportspersons are familiar with the problem: When in the sun, you cannot see anything on the display. It's different with our sports watch: The display brightness can be adjusted, so that you have an optimal view of the display in all light conditions. In addition, the design of the view can be changed: Simply select a different display design – different styles are just as important as different types of exercise.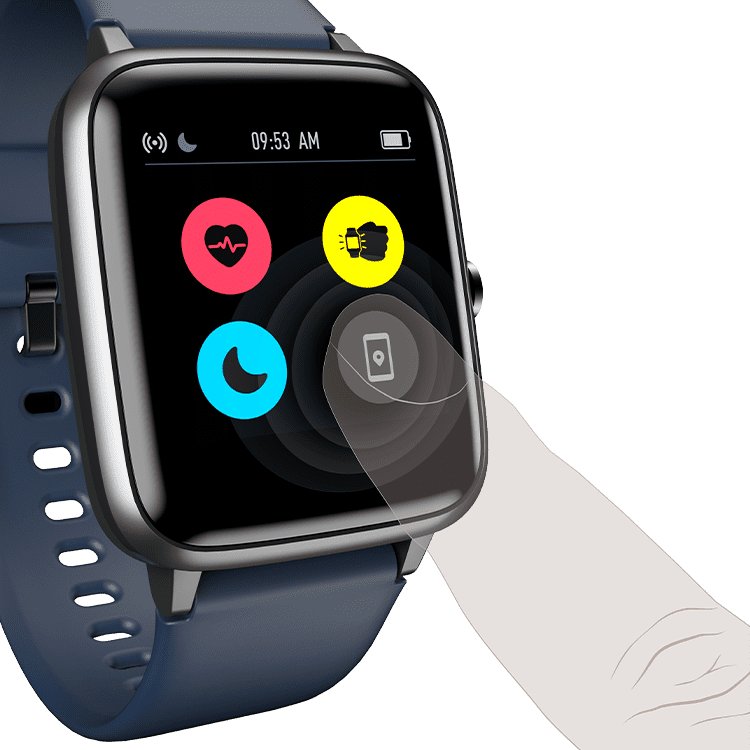 Detailed tracking for every sport
So, your motivation has been aroused, and you'd like to bring more variety to your everyday exercise. Pedometer, recording times – all well and good. But what about activity tracking for sports such as yoga, cycling or fitness training? You can select from nine different sports on the smartwatch. The analysis is, of course, detailed and perfectly adapted to the selected sport. So even with disciplines that are distance-independent, such as yoga, Tabata, etc., you have an optimal overview of your heart rate, calories burned and goals.
With the 'Hama FIT Pro' app, you can easily control, observe and monitor each function of the fitness watch – from music control to heart rate and calories burned – and every so often go to your sleep behaviour, or pause and do breathing training.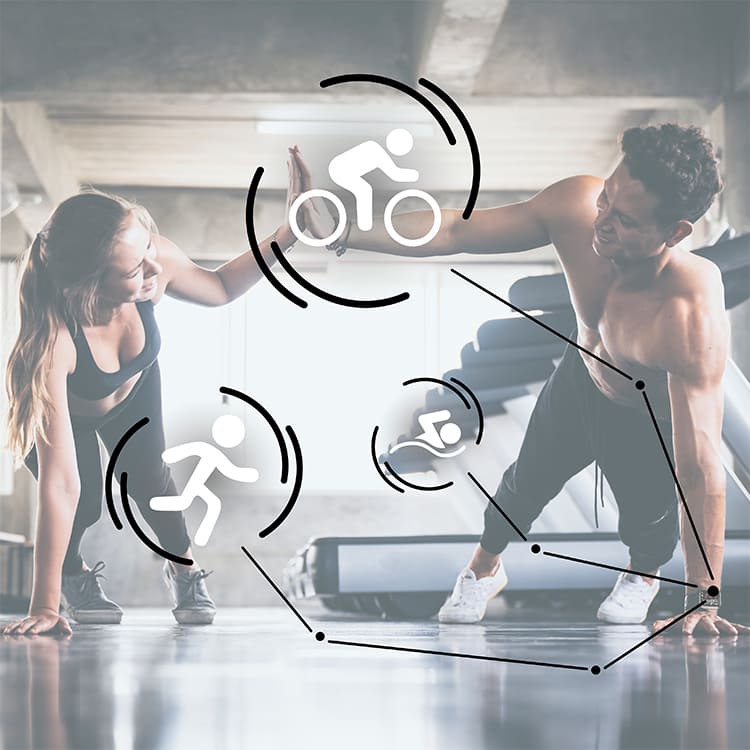 Your activities always in view
everywhere and at all times
Your goal for this week: Use the stairs instead of the lift, extend your walking lap to two kilometres, or keep going for more than half an hour when working out! What actually happens inside our bodies when we take up greater sporting challenges? And how do the functions of our bodies behave in rest periods or under stress? With the smartwatch, you find out more about your health data, and learn to become more aware of your body functions and to take counteractions if necessary.

Compare your heart rate when climbing stairs, after climbing stairs, and when you have got your breath back. Perhaps your pulse is too high in rest periods.

Monitor your sleep during times of stress, and check the effects this stress has on deep sleep, dream and waking phases.

Bring more movement into your daily life – whether in the traditional office, home office or shop: With the pedometer, you can set yourself a daily goal and have the movement reminder tell you when it's time for a run around the block or a few jumping jacks to boost your energy level.

Take advantage of networking opportunities: Motivate others to move more, or let yourself be motivated to take up new challenges. With Google Fit, Apple Health and Strava, you are part of a sports community. How about an office challenge – who will cover the greatest distance this week?