"Safe" air quality measuring device
Healthy air, healthy living: air quality always in view
We eat a healthy, balanced diet, abstain from sugar and alcohol, do intermittent fasting and take regular exercise. What we often forget is that we spend most of our time indoors. Indoor climate plays a considerable part in our health and well-being. The balance between oxygen and CO2 concentrations, as well as temperature and humidity are as important in the office as in our living spaces. But how do we know whether the indoor air quality is good or bad? Everyone feels things differently – so a room that feels stuffy to one person may feel pleasantly warm to another. Don't rely on personal feeling when it comes to healthy indoor air; let yourself be guided by reliable data and facts, as provided by our "Safe" air quality measuring device.
CO2 measurement
Less CO2, less strain
What constitutes good air quality? Too much CO2 in the indoor air can cause headaches, concentration difficulties, dizziness and listlessness – a CO2 level of 200,000 ppm or more can even lead to death. For too much CO2 means too little oxygen, and also indicates the presence of many aerosols, which may carry viruses. The air quality meter is meticulously precise, so that not a single CO2 molecule is missed. This is made possible by the NDIR (non-dispersive infrared) sensor, which is especially suited for gas measurement. The measured values are specified in exact ppm and are easy to read. Of course, not everyone can analyse these values. Therefore, there is a clear, easy-to-interpret traffic light indicator. If it's green, then everything is fine – the air quality is good; if it's red, you should react at once. In addition, an alarm tone sounds at the deep red warning level of 1001 to 2000 ppm, which becomes more intense with increasing deterioration. In this way, the air quality measuring device lets you know, in good time, when thorough ventilation is needed to establish the right balance of oxygen and CO2 and banish virus-laden aerosols.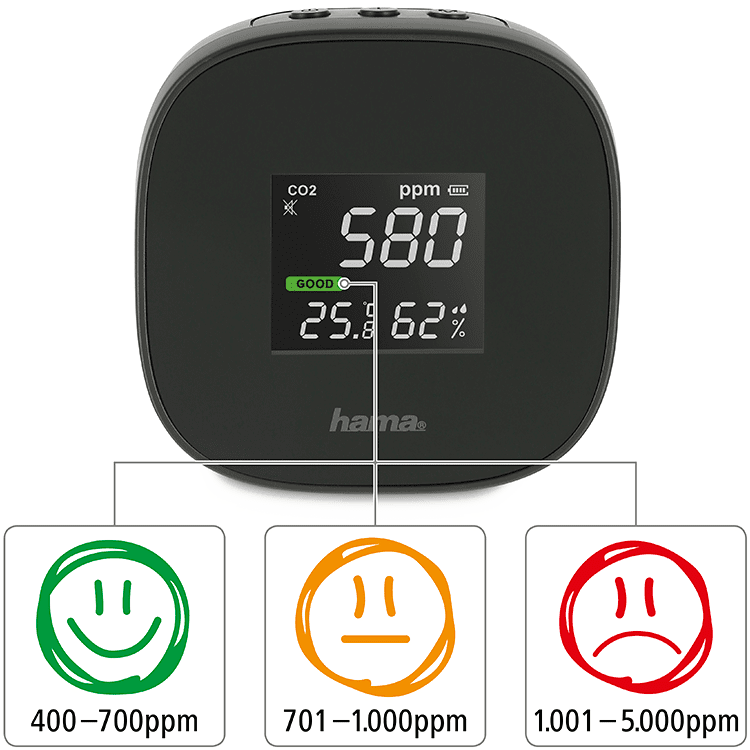 Feel-good spaces
With the right temperature and humidity
Temperature and humidity likewise have effects – on our well-being, concentration, and sleep behaviour, for example. If the indoor air is too moist and too warm, we feel overwhelmed – as if we were in a jungle in the rainy season; only mould spores thrive. If, on the other hand, the air is too dry, we get a scratchy throat, and our eyes and skin are itchy. The air quality meter displays the temperature and humidity on its generously sized, easy-to-read display. If the air is too dry or too moist, you are warned and can quickly take countermeasures: ventilate or heat the room, place a container of water or use a humidifier.
Mobile air quality measuring device
Air quality check for any room in your home
You spend most of your time in the living-dining area, but what about if you would also like to check the air quality in the bedrooms in the evening? Or how about if you'd also be interested to check the air quality in the office? With its compact dimensions of 7.5 x 3.5 x 7.5 cm and a discreet look, the battery-operated mobile air quality meter can be used anywhere in your home. The battery lasts 3.5 hours without a power supply; the remaining battery power is shown on the bar display.