The budget iPhone SE 2020
is making a comeback: We have accessories to go with it
This news has delighted all Apple disciples: The iPhone SE 2020, the popular budget model, was re-released on 24 April 2020. The design is familiar; but inside, the smartphone has been equipped with the latest technology. From the processor to the camera, Apple has updated all the features. But the best thing is: The smartphone is nonetheless affordable!
We, too, have eagerly awaited the new device, and are pleased to be able to present to you our all-round carefree package for the new iPhone SE 2020. We offer stylish covers, suitable headphones, and many more must-have accessories for the comeback model.
ALL-ROUND PROTECTION GUARANTEED
The new iPhone SE 2020 must be optimally protected on all sides. Through our many years' experience in the area of display protection, we know exactly what protecting the new iPhone model comes down to.
Our film and glass display protectors protect the display from scratches and even breakage. The back of the smartphone also needs protection from damage. For optimal, reliable protection, we offer suitable covers – including ones in a booklet style – in simple and modern designs.
Protective films and glass
Covers (including ones in a booklet style)
HAMA EXPERT TIP
From Burcin Bilgic, Hama Product Management
We recommend our safe but stylish . Thanks to its anti-shock guard construction, it provides optimum drop protection for the back and corners of the new iPhone SE 2020. But it gets even better: As the cover is transparent, it draws attention to the elegant design of your new iPhone.
ALWAYS FULL POWER
Good news: The new iPhone SE 2020 supports fast charging! As no fast charging cable comes with the smartphone, we offer numerous compatible chargers and charging cables with fast charging technology! A little tip: With our power packs and vehicle chargers, you always have a convenient power supply on the go!
Fast charging and data cables
Vehicle chargers
Qi chargers
Power Packs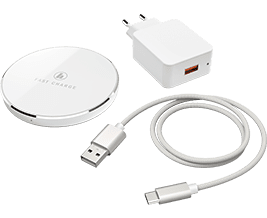 HAMA EXPERT TIP
From Burcin Bilgic, Hama Product Management
Of course, the new iPhone model also masters wireless charging. We therefore recommend our . With a maximum power output of 10 watts, you have the perfect power for all smartphones that are capable of wireless charging. Thanks to wireless fast charging technology, the Qi charger charges your smartphone faster than conventional chargers. Power on!
IMPRESSIVE SOUND QUALITY
Unlike its predecessor, the new iPhone SE 2020 has no jack socket. Our stylish Bluetooth headphones provide an appropriate solution: They allow you to listen to music and charge your smartphone at the same time, while guaranteeing perfect sound.
Bluetooth headphones
HAMA EXPERT TIP
From Burcin Bilgic, Hama Product Management
Do you want to enjoy the ultimate sound while exercising? Our 'Connect' Bluetooth headphones are sweat-resistant and ultralight. Their rousing sound quality is guaranteed to spur you on to top performance. Colour matching: The headphones are available in red, white and black, to go with the new iPhone.