DVB-T2 Antennas
More Stations, More Regions, Better Quality
DVB-T2 – it gets serious in 2017!
In March 2017, many regions in Germany will begin the switch-over to the HD digital terrestrial television format DVB-T2. The new format will impress viewers with 1080p resolution and HEVC encoding, achieving an image quality on par with satellite, cable or IPTV. The technology can be scaled up to 8K and has been developed based on H.264, which is used for HD satellite television (DVB-S2).
DVB-T2 has been in trial operation in urban centres since summer 2016. The next major step – the final switch-over in urban centres – follows in March 2017. After a short parallel phase, DVB-T will then be completely switched off there.
If you prepare for the switch-over and take note of a few things, you won't have to worry about a black, empty screen.
Do you want to check whether you are affected by the switch-over? If so, use the reception checker: www.dvb-t2hd.com
WHAT IS THE DIFFERENCE BETWEEN DVB-T and DVB-T2?
DVB-T2 represents an improvement on the DVB-T broadcast standard. DVB-T2 allows for significantly higher data rates. This increased data rate will be used in the future to offer a wider range of stations and programmes. It will also allow broadcasters to use highly efficient H.265 compression so that programmes can be broadcast in HD quality.
The benefits of DVB-T2 are also available on mobile devices, whether through a USB stick for your laptop or in your car.
DEVELOPMENT OF DVB-T2
Now and into the future

2003
Changeover from analogue to digital terrestrial television.
2016
DVB-T2 test phase: DVB-T2 stations with wide broadcasting ranges can be received in urban centres.
2017
Introduction in urban centres.
2018-2019
Expansion to cover all of Germany.
REQUIREMENTS FOR RECEIVING DVB-T2
1. A region where you can receive DVB-T terrestrial television programmes
CURRENT COVERAGE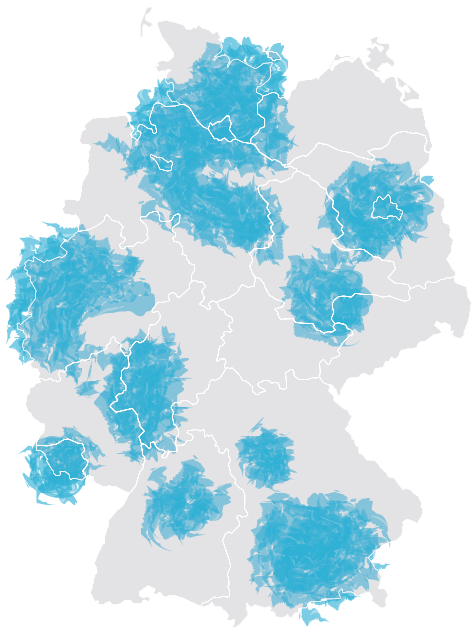 DVB-T2 AT START AND AFTER EXPANSION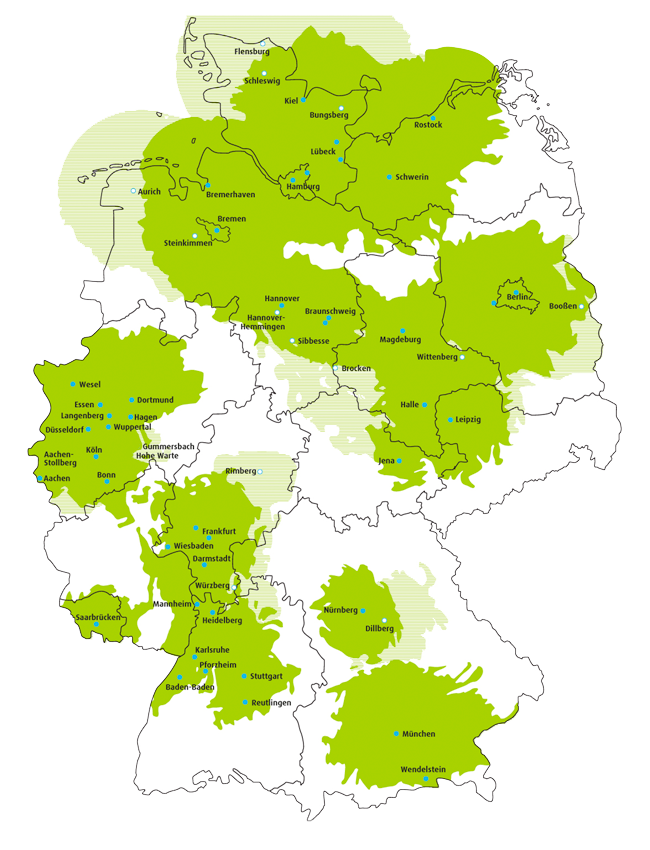 POTENTIAL FINAL COVERAGE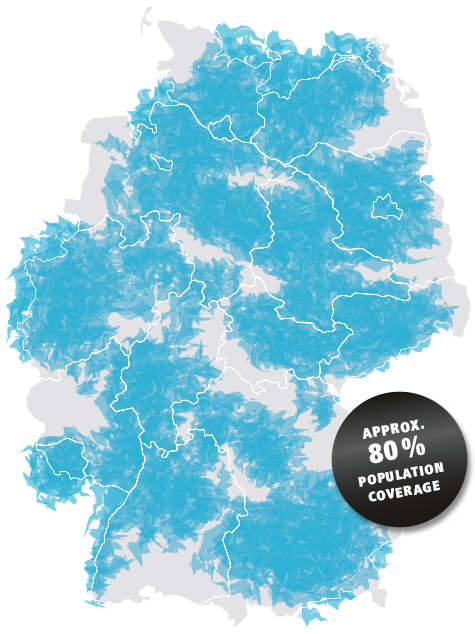 2. Terminal device compatible with DVB-T2
The higher image quality is made possible by the new HEVC/H.265 coding. Compatible devices are labelled with a green DVB-T2 logo.

3. DVB-T2 antenna
All our antennas are DVB-T2 compatible. This is indicated by the blue DVB-T2 logo on our products.
ADVANTAGES AT A GLANCE
High-resolution HDTV
Receive HD programmes through an antenna easily and from anywhere
Excellent variety: about 40 stations in urban centres