Tripods
Compact, lightweight and flexible – perfect for anyone
Anyone who takes pictures for a living, whether they're a professional photographer or an amateur, knows the value of a tripod. A camera tripod is the only way to take completely blur-free pictures. Especially under sub-optimal lighting conditions, if you're using neutral density or polarizing filters, or for long exposures, a tripod is absolutely indispensable.
Whether you're snapping portraits, landscapes, cityscapes or architecture, Hama has the tool for you to deliver quality shots. Our selection includes lightweight and compact travel stands, mini and flex stands for action cams and smartphones, and sturdy tripod stands.
Which tripod is the right one for you?
The best tripod depends on the application. Multifunctional tripods offer the significant benefit of flexibility, being easy to re-configure.
Three-legged tripods: These are particularly stable and provide firm grip on uneven surfaces.
Monopods: Monopods are perfect for cameras equipped with telephoto lenses. They're very handy, extremely light, and well-suited for any location where space is restricted.
Mini tripods: Mini tripods are just the right thing for smartphone photography
Flex tripods: Flex tripods have flexible legs that can be wrapped around just about any object, making them perfect for taking smartphone and GoPro pictures.
Overview of three-legged tripods
Spirit level integrated into the tripod head
Quick-release plate
Ballhead with panorama function
Rotatable central column
Non-slip foam grip
Weight hooks
Rubber feet for stability
Functional screw clamps
Spikes on the tripod feet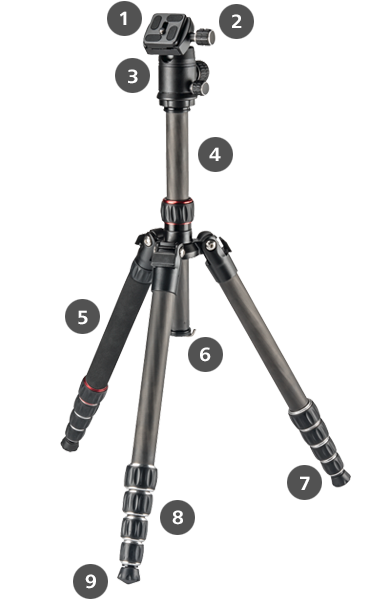 What to look out for when buying a three-legged tripod
When determining your criteria for buying a photography tripod, everything depends on the application. For travelling and on the go, the tripod's weight is critical. If you often shoot in rough terrain, then it must provide a firm grip. Make sure the tripod head is suitable for the subjects you like to shoot. The following tips are sure to help you find your personal camera tripod:

Max. carrying capacity
A photography tripod should have a maximum carrying capacity of 8 kilograms. This guarantees consistent stability even with heavy cameras.

Screw clamps
Screw clamps are used to quickly and simply assemble and disassemble the tripod.

Spikes
They are attached to the tripod's feet and ensure a particularly secure grip on soft or slippery surfaces.

Max. size
The correct size of the tripod depends on your subject: It should be tall if you're taking mountain panoramas and short if you're taking pictures of flowers close to the ground. That's why it's important to pay attention to the maximum size of the tripod. The maximum working height should place the camera at eye level.

Pack size
A small pack size is particularly important for travelling. Storage space is at a premium and any additional weight must be avoided. We recommend our carbon tripods as lightweight, compact travel tripods.

Central column
Unusual retro shots can be taken best with a rotating and invertible central column.

Quick-release plate
Thanks to the quick-release plate, the camera doesn't have to be screwed directly into the tripod. That means you can change quickly between shooting with and without the tripod. Furthermore, the quick-release plate is the ideal solution for anyone who shoots with multiple cameras, since it makes changing cameras a breeze.

Weight
Since a photographer's equipment usually contains many different components and therefore already weighs quite a lot, the tripod needs to add little weight of its own – and yet still be stable and sturdy. The weight is crucially dependent on the material used: Carbon and aluminium guarantee low weight and high stability.

Tripod head
There are various types, such as two-way tilting, three-way, and ballheads. The most flexible of them all is the ballhead. With the ballhead, the camera can very easily be orientated either vertically or horizontally.