Wie gemacht für die Fitbit Versa 3, Versa 4, Sense und Sense 2:
Sportliches Uhrenarmband zum Wechseln
Die Laufschuhe matchen mit der Sporttight, das Fitnesstop ist harmonisch mit den Hanteln abgestimmt: Sportliche Herausforderungen müssen auch gut aussehen. Und die sportlichen Accessoires sollten auch zum Style passen. Warum also nicht das passende Sportarmband für die Fitnesstracker Fitbit Versa 3, Versa 4, Sense und Sense 2? Als lizenzierter Kooperationspartner von Fitbit gibt es bei Hama stylische Armbänder für die Smartwatch. Nach Lust und Laune können Sie die Lieblingsfarbe auswählen, ein Design, das zum Sportoutfit passt oder ein Armband als Ersatz für ein defektes. Die Wechselarmbänder sind mit ihrer Universalgröße für nahezu jedes Handgelenk geeignet und machen sich selbstverständlich nicht nur beim Workout gut, sondern genauso im Alltag, beim Feiern und im Büro.
Silicone strap to withstand every sporting activity
When you are exercising, you don't want to wear anything that pinches, squeezes or is uncomfortable in any way – and the same is true of fitness watches. That's why our sport straps for the Fitbit Versa 3, Versa 4, Sense and Sense 2 are made of silicone. The material is flexible and soft so that nothing cuts into or puts pressure on your skin – at the same time, it is slip-resistant, as the strap should fit securely at all times. The skin-friendly silicone also offers the advantage of being dirt-repellent and washable. So if you decide to step up your usual workout with a cross-country assault course, your replacement strap will be up to the challenge.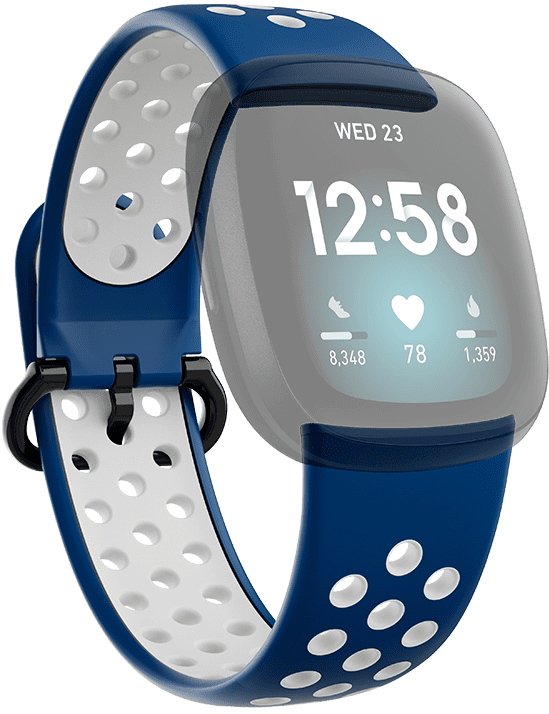 A breathable sports strap with air holes to prevent sweating
No matter how hot it gets, no matter how much you perspire, the Fitbit strap keeps its cool. The perforated design maintains a constant air supply so that the strap is always comfortable to wear, whether you are walking, high-intensity interval training or jogging.
Stainless steel buckle: Secure hold for the Fitbit Versa 3, Versa 4, Sense and Sense 2
Whether worn for the office, a business meeting, a party or workout – with the stainless steel buckle, your Fitbit always sits firmly and securely on your wrist. The stainless steel fastener is durable and, unlike plastic fasteners, cannot break – so you will be able to enjoy your new replacement strap for a long time.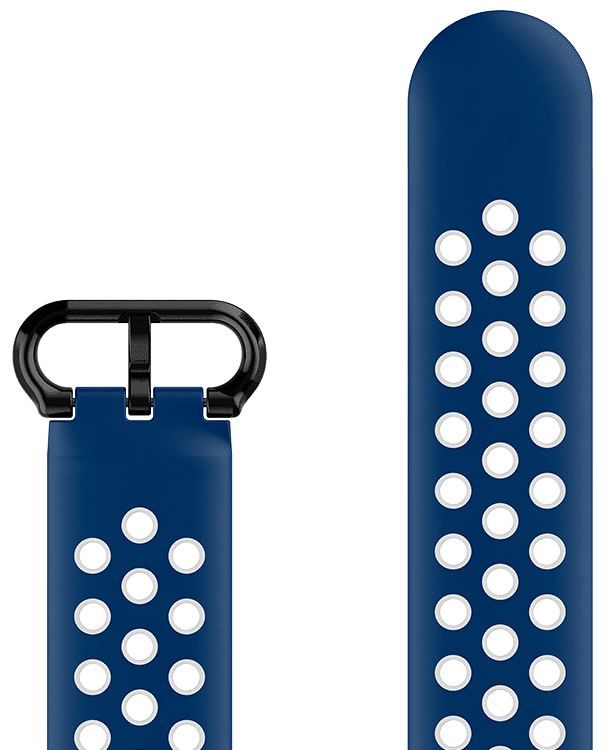 As a licensed Fitbit cooperation partner, Hama guarantees that the straps are compatible with, and a precise fit for, your Fitbit smartwatch. Rely on the experts! That way, you can focus on achieving your best sports performance.