Sharp as a pin
Ultra High Speed HDMITM cable with 4K/8K resolution
An HDMITM cable allows you to enjoy top-quality picture and sound – in particular, where the data transmission is at Ultra High Speed and the data includes 8K resolution images. The advantage: a stutter-free image transmission – colour-intensive and high-contrast. The advantages of an Ultra High Speed HDMITM cable are evident when watching television or streaming, but also when gaming – anywhere where High Speed is required. Thanks to the sophisticated testing process of Hama's Quality Assurance department, the quality of the products can be ensured at all times. In addition, Ultra High Speed certification ensures that all features of HDMI 2.1 are supported.
Ultra High Speed for perfect picture quality
Is the picture jerking again while you're trying to watch the latest blockbuster on Blu-ray? This could be because the data transmission rate of your existing HDMITM cable is too low – just 18 Gbit/s for a standard cable – to reproduce the fast movements in the action film. With Ultra High Speed, there is no lag, no judder, no stuttering: With a bandwidth of 48 Gbit/s, the data zooms through the cable and the inner conductors made of copper – the pacesetters in the cable. Action-packed and visually stunning scenes in films, games and in sports broadcasts are displayed without lag. The VRR (Variable Refresh Rate) ensures stutter-free images for gaming, in particular.
8K
Detailed, colour-intensive and high-contrast
The cable is suitable for 4K/120 Hz and even for 8K/60 Hz. An 8K resolution is 7680 x 4320 pixels – lots of pixels that give you the best picture quality. This value is 16 times the number of pixels of Full HD and four times that in 4K. If you use the 8K HDMITM cable with an 8K monitor in the office, the display on the PC screen will be a delight to your eyes. Watching a blockbuster on your flat-screen TV in the evening or gaming on your PlayStation will provide real enjoyment. An explosion of colour, rapid picture changes, or enjoyment during a football match when a goal is scored from a direct free kick: Dynamic HDR ensures high-end picture quality. Greater depth, more sharpness, more brightness, more contrast and an extended colour space – you will be delighted.
Best picture – best materials
Our Ultra High Speed HDMITM cable will delight you with a phenomenal picture experience. To ensure you get many years of enjoyment, our HDMITM cable is manufactured using top-quality materials. Even the cable sheath is high-tech: It is made of tough, heat-resistant and durable aramid fibres. The robust, gold-plated metal plug also protects against interference and gives the final touch to a clean signal transmission. The cable is made of flexible materials so it can handle being inserted and removed frequently as well as the odd kink.
As a long-standing partner of the licensing body responsible for HDMITM specifications, known as HDMITM Licensing LLC, Hama is always up to date technologically. Ultra High Speed certification ensures that all features of HDMI 2.1 are supported. This certification comprising QR code and holographic image must be displayed on the packaging. The certification can be scanned and a certified cable verified using the HDMI Cable Certification app. Hama's Quality Assurance department tests the cables regularly with a special test device. In addition, the cables must be submitted to an independent test centre certified by the HDMI Forum. Electromagnetic compatibility, among other things, is tested there, in order to reduce interference from wireless LANs, Bluetooth devices or mobile phones, for example.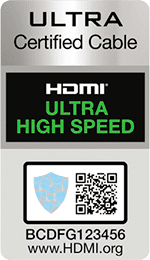 Picture + sound = HDMITM cable
Goodbye cable clutter – for picture and sound, you need only the High Speed HDMITM cable. With eARC (enhanced Audio Return Channel), it also supports the most advanced audio formats without the need for an additional audio cable.