Highest picture and sound quality with Ultra High Speed HDMI cables
In the TV and gaming console fields, picture quality is continually being improved. To be able to enjoy this image depth, state-of-the-art accessories are required. Only then is a high-contrast, colour-intensive image transmission without dropouts guaranteed.
Our Prime Line and Essential Line Ultra High Speed HDMI cables give you the ultimate picture and sound experience in 4K at 120 Hz or 8K at 60 Hz.
What are Ultra High Speed HDMITM cables needed for?
The Xbox Series X and PlayStation 5 games consoles already offer a 4K HDR resolution at 120 frames per second. In addition, they are compatible with 8K displays, the next step as regards image depth. The term '8K' refers to the number of pixels that can be displayed by the new high-tech devices. With 7,680 x 4,320 pixels, 8K has 16 times the number of pixels of Full HD and four times as many as 4K.
When it comes to a larger investment, such as the purchase of a TV set, it is always advisable to back innovative future technologies. After all, who wants to own an obsolete device after just a few months. Besides 8K output from games consoles, TV content will be increasingly produced and broadcast in 8K in future. This includes big events such as the Olympic Games, for instance. With 8K resolution, you feel as if you are there in person – right in the middle of a wild chase, or among the cheering crowd in a stadium.
The special features of our Ultra High Speed HDMITM cables
Thanks to the Ultra High Speed transmission of our HDMITM cables (up to 48 Gbit/s for all image and sound standards) and a bandwidth of 120 Hertz, you can enjoy all the benefits of 4K resolution at 120 frames per second, or 8K at 60 frames per second. The gold-plated metal plugs ensure highest contact quality and reliable signal transmission. Through use of flexible materials, the cables also have optimum kink protection.
Our cables are regularly tested by our quality assurance department. For this purpose, we use a special test device. We can therefore guarantee that our Ultra High Speed HDMITM cables fully meet all specified parameters.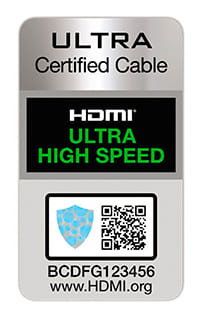 "Prime Line"
HDMITM cable series
Our 'Prime Line' cable series (1, 2 or 3 metres) offers outstanding advantages (in addition to those of the 'Essential Line'). Cables in the 'Prime Line' series:
have a 30-year guarantee.
have a particularly robust metal connector with optimal shielding, which guarantees reliable signal transmission.
offer optimised kink protection through use of flexible aramid fibre. This high-tech cable sheath prevents cable damage and is particularly elegant.
allow improved contact quality and optimal signal transmission thanks to the 24-carat gold-plated connector.
Go to the HDMITM "Prime Line"
"Essential Line"
HDMITM cable series
Our 'Essential Line' cable series in three different lengths (1, 2 or 3 metres). Cables in the 'Essential Line' series:
have a 10-year guarantee.
offer Ultra High Speed transfers of digital audio and video data between devices such as Blu-ray players or SAT receivers and your TV.
allow 3D transmission via increased bandwidth.
Through Dynamic HDR, they enable each image to be displayed at its ideal values for depth, sharpness, brightness, contrast and wider colour gamuts.
ensure excellent, interference-free picture and sound quality thanks to high-quality materials and separately shielded wires.
Go to the HDMITM "Essential Line"