Ergonomics at home and at work
For prevention of health problems
Ergonomic all-round care for home and at work
Germans spend an average of seven to nine hours a day at the workplace or in their home office. So it's all the more important that the desk at work and at home is ergonomically arranged with the aim of maintaining and improving health. Prolonged lack of movement, poor posture and strain can cause damage to the musculoskeletal system.
But what is meant by the word 'ergonomics'? Ergonomics is the adjustment and design of working conditions to people's individual needs and capabilities. Working conditions are adjusted to the person, not the other way round. At an ergonomic workstation, the office chair, desk and monitor are perfectly combined.
A workstation that has been set up ergonomically has positive effects not only on physical health; it is also shown to have a significant impact on performance and work motivation.

Hama offers the right ergonomic solution for preventing health problems
Specially designed products from Hama are gentle on the four typical pain areas and, when combined with the necessary know-how, promise comprehensive, ergonomic all-round care for everyone.
To prevent headaches
Natural light should be the primary light source in the workspace. Additional lighting should be implemented indirectly if possible. Instead of placing a lamp on the desk, it is recommended that you use wall spotlights with warm light. This improves the ability to concentrate for longer periods; there are no shadows on your keyboard as you type, and headaches are avoided.
Expert tip:
A regular blast of air, and coordinated, muted room colours likewise support concentration and performance. Noise level is another factor that impairs our wellbeing and performance capability. Noise in the work environment should therefore be avoided if possible. Headaches and stress can be successfully counteracted in this way.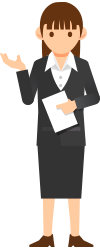 To prevent neck pain
Viewing a monitor screen from an incorrect angle, frequent twisting of the head, and incorrect desk height can cause tension in the neck. With flexible accessory products for precise, custom alignment of devices, this can be quickly counteracted.
Flexible monitor arms, angled notebook stands and adjustable document holders allow adjustment to individual eye level. In this way, holding the head in an unnatural position for long periods of time can be avoided.
Expert tip:
The ideal height for a desk is, on average, 75 cm. The head tilt when viewing the top line on the screen should be a maximum of 35°.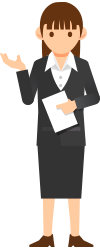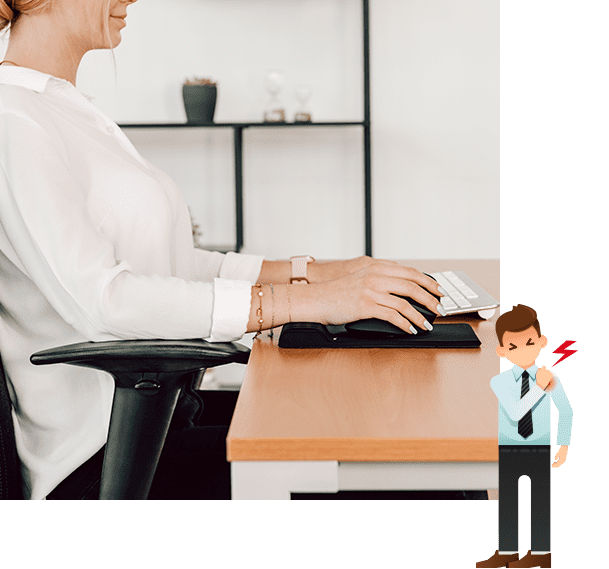 To prevent wrist pain
Pains can occur quickly in the wrist as a result of unnatural hand posture when doing repetitive screen work with a mouse and keyboard. The level at which your arms rest on the desk is also decisive. The right equipment supports ergonomically correct posture.
Expert tip:
Lower arm and hand should ideally be in a horizontal line when working with a mouse and keyboard.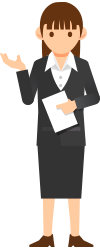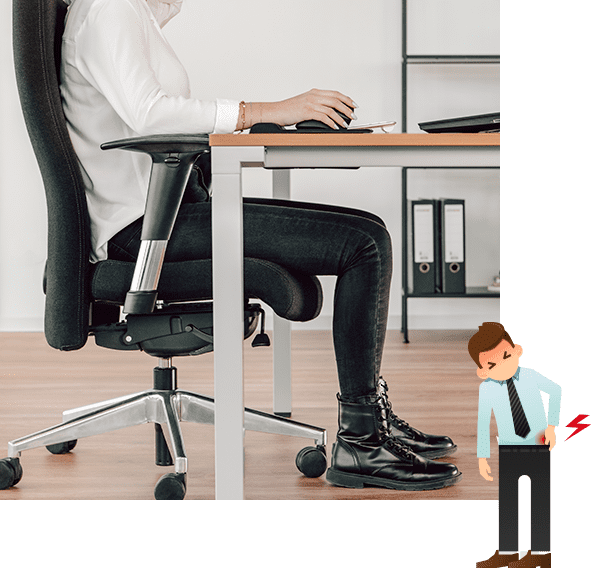 To prevent back pain
Back pains are the result of long periods of restricted mobility when working, and of incorrect posture when sitting, standing or bending. They are the most commonly reported health problem in the workplace, and therefore need special attention.
Expert tip:
Changing your sitting position regularly and doing exercises to loosen up can have a positive effect on posture. Generally speaking, your legs should form a 90-degree angle when sitting, and the soles of your feet should be fully on the floor.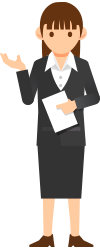 Fit at the workstation
By practising these four small exercises, you can relieve the four pain areas – head, neck, wrists and back – and release minor blockages.
Exercise 1
Close your eyes.
Using your fingertips, stroke from your eyebrows outwards to your temple; repeat several times.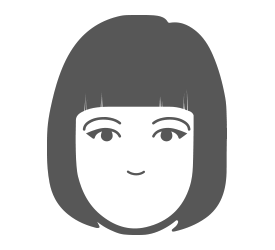 Exercise 2
Turn your head slowly to the left and then look up.
Now hold your head straight and repeat the exercise for the right side.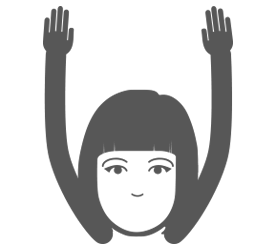 Exercise 3
Stretch your arms above your head and cross your wrists.
Slowly tilt your upper body to the left and then to the right.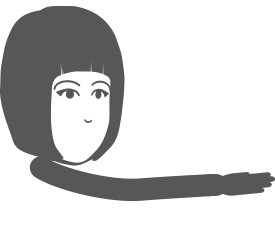 Exercise 4
Stretch your arms forward at shoulder level, palms facing down.
Bend your wrist so that the fingers are pointing down.
Using your other hand, carefully pull the fingers towards your body.
To stretch in the other direction, simply stretch your arm with your palm facing up and repeat the exercise.
Ergonomics checklist
1. Head pain
Adjustment of lighting and room colours for greater concentration
2. Neck pain
Alignment of monitor and work documents to individual eye level
3. Back pain
Arrangement of work areas for greater mobility
4. Wrist pain
Adjustment of input devices and wrist rests for a natural hand posture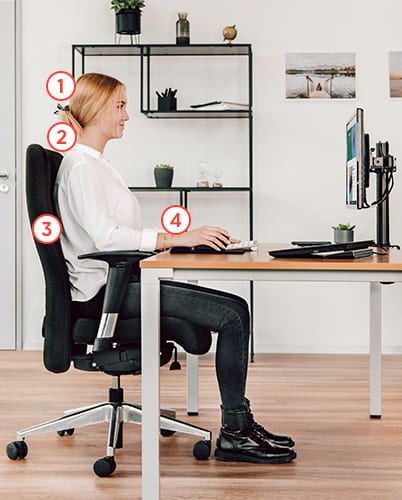 Expert tip
A crucial factor for greater concentration and effectiveness in your work is an organised work environment. A logical filing system on the desk serves as a good basis. Notes taken during a telephone call should be written in notebooks rather than on loose sheets, or recorded digitally. The decoration on the desk is best kept minimalistic, with a maximum of two personal items. Lastly, it is important to tidy up your workstation in the evening, as this will also help you to mentally switch off after work.